Mob Programming Quick Start Guide
I've spent the last few years coaching teams and introducing them to Mob Programming. I was fortunate to get to coach with some of the finest technical coaches, Industrial Logic consultants Tim Ottinger, Michael Rieser, Bill Wake, and Steve Ropa. During our time together, coaching over a dozen teams, we've discovered a set of starter practices that help teams find early success with Mob Programming.
Mob Programming is a fantastic way to teach technical practices like Test-Driven Development (TDD), refactoring, legacy code techniques, evolutionary design, etc. Teams adopt these practices quickly and continue to improve through mob programming sessions. More importantly, Mob Programming is a practice that helps teams increase the quality of their work AND the quality of their interactions.
I've written about these recommendations previously in my article, Effective Practices for Mob Programming and Tim Ottinger published a similar post on the Industrial Logic blog, A Few Tips for Mob Programming.
The Guide
As a companion to mob programming coaching sessions, I created a quick start guide that distills these recommendations into a short one-page poster that can be kept by the team's mobbing workstation.
You can download this quick start guide here: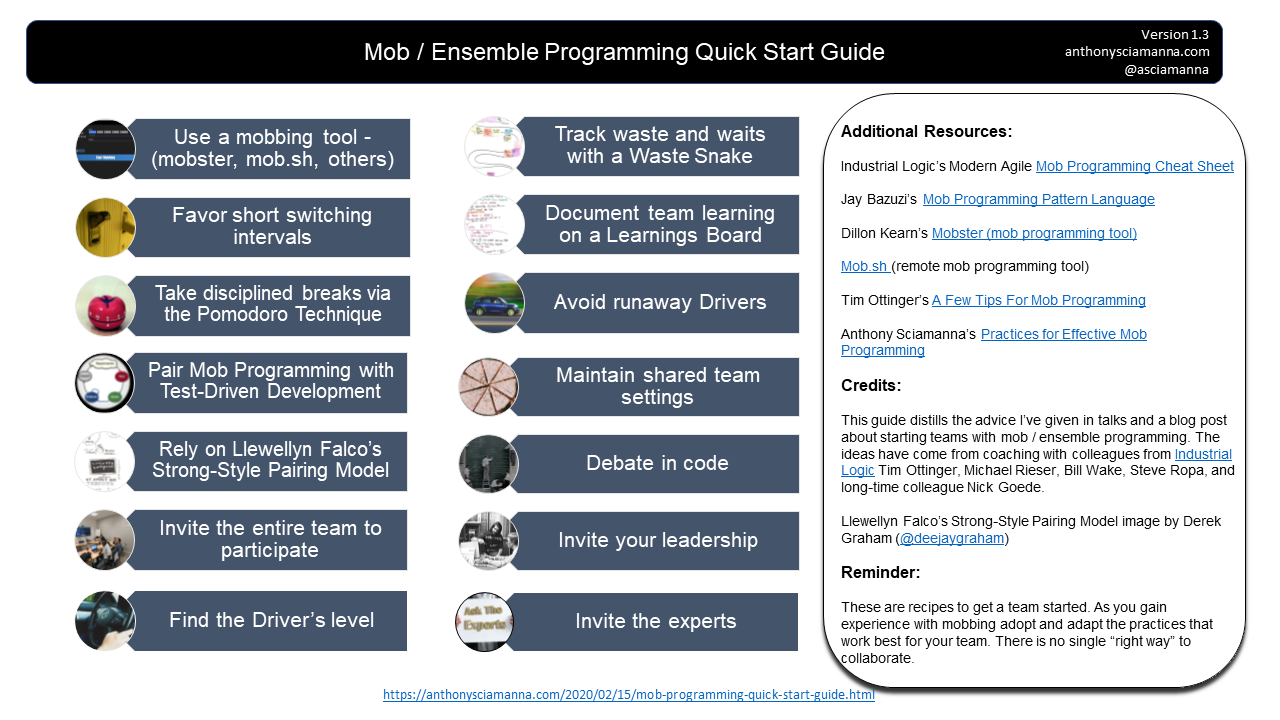 Starter Recipes
Remember that these recommendations are to get teams started and find early success with Mob Programming. As you progress with Mob Programming determine what works best for you. Woody Zuill was the coach for the team at Hunter Industries that first discovered Mob Programming. He often says there are no rules to Mob Programming; instead there is a core idea: the team's dedication to learning how to work well together. Through continued inspection and adaptation, you will come to find your own practices that work best for your team.